Cardio-C®

Vitamin C Foundation Approved


This Nobel Prize inspired Pauling-therapy drink mix is safe, proven -- and effective!
Aug 2011

"Dear Owen Fonorow,

I want to thank you for saving my life!

It was articles written by you that were published in the "Townsend Letters" ten years ago, when you described the Linus Pauling protocols regarding cardio-vascular disease. In 2002, I began following Dr. Pauling's recommendations and continue until today with the results recorded in the attached medical records.

I feel indebted to you, Dr. Fonorow, for providing me with information that has enabled me to live the last ten years of my life in excellent health. Thank you for keeping LInus Pauling's legacy alive.

If the information contained in the enclosed (13 year & experience with Lp(a)) can be of benefit to your cause, you have my permission to use said information , in any manner, shope, or form, with no strings attached.

Thank you sincerely,


Dave G. Cramer
((a humble 84 year old follower & believer)

---

" I have taken my Cardio C two times sometimes three times a day since 1996, no statins, ever since the last operation for my atherosclerosis in 1995 and blood clots in the legs. It was four operations later ending with an aorta bypass that was enough for me - Linus Pauling came next and I an eternally grateful for his findings and those of his colleagues, and all who helped to spread his teachings: I have had no problems since I began with Cardio C. Perhaps I should add that I consider it very necessary to add regular exercise, even gentle, to the Therapy; I am myself together with my wife an ardent cyclist. " - Daniel, Sweden

---

"Yes, we really want six. These are for a friend, (and are working really well I might add, he's had a quad bypass a few years back and his angina returned. After approx. 10 days @2 scoop/day Cardio C he woke with no angina and has more energy every day! - Just like to let you know). Thanks. Regards" - Helena, Ireland

---



Testimonials represent a cross section of the range of results that appear to be typical with these products. Results may vary depending upon use and commitment.

One serving Cardio-C contains the following pharmaceutical-grade ingredients: (* Revised 01-16-2005)
2500 mg Vitamin C as HypoAllergenic Ascorbic Acid. (100% corn free)
2500 mg Lysine *
500 mg Proline *
1 mg Vitamin B2 (riboflavin)
52 mg Stevia *
30 servings per jar. 1 to 3 servings recommended daily.
Compare Cardio-C® and Tower HeartTechnology®
Tower HeartTechnology (Therapeutic)
The Cardio-C®


Pauling-Therapy formula
<![if !vml]>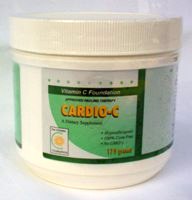 <![endif]>
Endorsed by the Vitamin C Foundation
Cardio-C®:
Pleasant-tasting -- a hypoallergenic vitamin C drink mix enhanced with stevia. No GMO.


Pure -- premium ingredients. No fillers, glues, or additives to hold pills together. Certified 100% corn free.


Convenient -- one jar replaces more than 300 pills.


Economical -- on autoship your cost is less than 1 dollar (.80 cents) per day. Includes the hard-to-find amino acid proline.


Prevention strength -- For people with healthy hearts and who want to remain that way. Pauling's specific vitamin C, lysine and proline recommendations for the prevention of CVD.


Combine with your favorite multivitamin and multimineral products -- no conflict with most other nutritional products. For even more strength, add Vitamin C Foundation Vitamin C to each serving.
Ø Cardio-C® is a pharmaceutical grade Lp(a) Binding Inhibitor based upon the Pauling Therapy for cardiovascular disease.
Dr. Linus Pauling, the founder of modern Chemistry, the holder of 48 honorary Ph.D.s, and the world's only 2-time unshared Nobel prize laureate, alerted the world that Chronic Scurvy, a low-grade, sub clinical vitamin C deficiency, leads to damaged blood vessels, altherosclerosis, and heart attacks.

Pauling believed that too little vitamin C leads to elevated cholesterol, especially the Lp(a) variant of LDL (bad) cholesterol that causes atherosclerotic plaque build-ups in arteries.

Linus Pauling claimed that he and Dr. Matthias Rath's invention, specific non-toxic Lp(a) binding inhibitors, at high doses, will prevent and even dissolve arterial blockages. This claim has been given no press and medicine refuses to study it.
Ø Cardio-C® is made from the finest ingredients and the mix contains more vitamin C, lysine and proline per serving than all competing products. Cardio-C® makes the best tasting drink, and the product is certified GMO free.
Note: The Vitamin C used in Cardio-C® is DSM Quali-C manufactured in Europe.
Following Linus Paulings recommendations are now as easy as 1, 2 or 3 drinks daily. This pleasant tasting powdered drink mix achieves high potency while eliminating lots of pills. This means that you aren't consuming unecessary fillers, glues and additives that would be required to hold scores of pills together.

It works! Patients easily attain Pauling's recommended preventive dosage, and 2 to 3 drinks provide maximum benefits. Testimonials of amazing results are at PaulingTherapy.com.

Technical information is on the video: Linus Pauling on Heart Disease: A Unified Theory of Cause and Cure which can also be ordered by calling 800-894-9025.
Ø Cardio-C® is Nature's Perfect StatinÒ for lowering cholesterol (Ascorbic acid is a natural HMG-CoA Reductase Inhibitor)
In 1985, two years prior to the introduction of the popular statin cholesterol-lowering drugs, the scientists who were investigating the enzymes that help the body produce cholesterol, made an important discovery: Vitamin C is a powerful anti-cholesterol agent. The vitamin C molecule inhibits the same enzyme, HMG CoA Reductase, that the statin cholesterol-lowering drugs inhibit. [*]






WARNING AND DISCLAIMER

Use at your own risk. Neither the FDA nor the Medical Profession accept the proposition put forth by Pauling, Rath, Levy and others that the root cause of cardiovascular disease is an acute vitamin C deficiency at the site of the arterial lesion.

These statements have not been evaluated by the Food and Drug Administration. This product is not intended to diagnose, treat, cure or prevent any disease.
Cardio-C ® is a registered trademark of Intelisoft Multimedia, Inc.
The product is manufactured and bottled at at FDA certified Douglas Laboratories. Safe for diabetics. Not made from animal sources. Certificate of Analysis and Microbiological analysis provided upon request. All ingredients are certified GMO free, Product contains no fillers or additives. One jar contains 30 servings. Replaces over 300 monthly pills. Dietary supplement. These statements have not been evaluated by the U.S Food and Drug Administration.